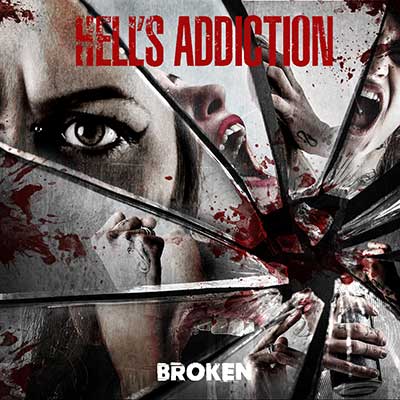 This week I have been given the opportunity to review an album by a hard rock band, the band goes by the name of 'Hell's Addiction'. I have been listening to the bands new album which is called 'Broken'.
The band came together in 2010 in Leicester, born of a mutual passion for the hard-hitting rock of the great 70s and 80s bands.
This band is brilliant and I will openly admit that I was really surprised how good this album is, 'Hell's Addiction' instantly made an impression on me because when I started listening to this album these guys reminded me of one of the best rock bands that I think everyone has heard of and that band of which they reminded me of is none other than the great 'AC/DC'
These guys have created an absolute stormer of an album and although they reminded me of 'AC/DC' they have taken what I believe as the old school hard rock and made it completely upto date, I have listened to this album through I think upto 6-8 times already and I can't get enough of the sound of this band, I will say straight up that even though I have reviewed quite a few bands this band is definitely one of the best
I will choose a song that stands out the most to me from the album but when an album like this comes along, which is filled with amazing songs throughout it makes it a huge challenge which fortunately for me I enjoy and with that said I have managed to pick out a song that song is track 4/Blue Lights, This song stood out the most because I am a huge fan of songs with slow starts and amazing vocals when it really starts it hits you and for me it just makes me want to headbang at at just the right pace aswell, definitely one of the best songs I have ever heard.
I have enjoyed this album so much that the rating I give it shouldn't be a shock to anyone, the rating straight and simple could only be a 10/10,
This album is so goddamn amazing and I have thoroughly enjoyed every second of listening to it, Hell's Addiction you guys have created one hell of an album!!!
Review by Mark Pritchard
News Was Posted on: 3rd July, 2016