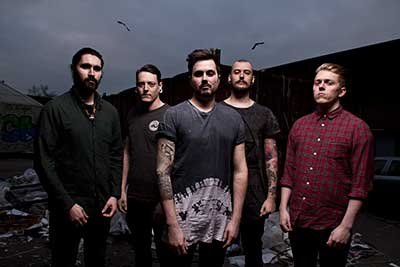 What's the name of your band? What's the origin of that name? Have you changed the band's name before?
The band is called Terraform and we're from Birmingham in the United Kingdom.
Please list the name, age, and respective instrument of each band member.
Zach Edwards - 23 - Drums
Joe Powell - 22- Guitar
Guy Alexander - 24 - Guitar
Mitch Gibbons - 27 - Bass
Mitch Richards - 28 - Vocals
What genre of music do you consider your work to be? Who are your major influences?
Progressive Metal - Periphery, TesseracT, Monuments, Veil of Maya
When did you form your band? What inspired you to make music together?
Band was formed in Birmingham - we've all played in different bands over the years and got to know each other whilst playing around the UK, occasionally sharing bills. This helped us get together to start playing in Terraform.
How long have you all known each other? How did you meet?
We've all known each other for a number of years, meeting via mutual friends and playing shows together in previous bands. Most of the guys hail from the West Midlands, with Mitch (vocals) coming from London.
Who writes your songs? What are the main themes or topics for most of your songs? Do you think these topics will change over time?
We try to write collaboratively, Joe will typically arrange the songs, with Mitch coming up with the vocal melodies and lyrics. More and more though, we're all coming up with our own arrangements and bringing these to the table to be worked on together.
Do you have a record label? Are you a member of any music organizations?
We don't have a record label but we're managed by Possessive Music Management.
What are your rehearsals generally like? Do you have a set time each week in which you practice or are rehearsals more spontaneous?
We have our own rehearsal space where we'll get together to jam a couple of times a week.
What can you tell me about your instruments? (i.e., Are you subject to brand loyalty or will you play with whatever's available? What made you choose the instruments you have now? Was it cost or was it a style/model/brand/colour preference?
Joe - Mayones Regius 7 w/BKP Aftermaths
Guy - Ibanez RGD2127Z-ISH
Mitch Gibbons - Warwick Streamer
Zach - Pearl kit, Zildjian Cymbals
Mitch Richards - Sennheiser audio equipment
How has your music evolved since you first began playing music together?
Mainly when Mitch Richards joined - he's much more of a singer than a screamer so introducing melodic vocals to our sound has been a major change.
How do you get psyched up for a gig?
Chicken, maybe a beer or a gin and tonic.
Where is the biggest you have performed? Do you have any upcoming shows?
Probably Hevy Fest. Yep, we'll be touring the UK in August and September.
Which songs do you perform most frequently? Do you ever play any covers? Do you have a set play list?
We do have a set play list, currently it's made up of songs from Adrift; our new EP, as well as a couple of older fan-favourites.
What have you got planned for the next 6 months? Hopefully something fantastic.
We hope so too! Mainly touring and writing new material and shooting another music video.
What is your favourite festival (played) / (been to)?
Probably Tech fest 2016.
If you could play alongside any band which one would you pick?
Periphery
What is the funniest thing that has happened to you recently?
Mitch R got engaged, but nearly didn't happen as he left his bag with the engagement ring inside it on the train. He got it back fortunately!
What has been your biggest challenge as a band? Have you been able to overcome that challenge? If so,how?
Managing the business element as a separate entity to the creative element is probably the biggest challenge. It's hard to strike a balance, but being disciplined in your approach to the business side of playing music, keeping merch money in the merch side of the business so it pays for itself, rather than using this for other expenses is probably the number 1 piece of advice I'd give.
Where can people buy your merchandise?
What's your ultimate direction for your band? Are you seeking fame and fortune?
If it happens, it happens; ultimately we're in it for the love of writing and playing music and hope to continue to do so for many years to come!
What advice do you have for people who want to form their own bands?
Always remember why you started doing it in the first place; whether it's to try something new and wacky or if you just want to enjoy making a racket with your mates - these are the guys who'll keep you going when times are hard.
How can fans-to-be gain access to your music? Do you have a website with sample songs or a demo CD?
Yeah of course - you can buy a CD and Tees here:
You can listen to it for free here:
Is there anyone you'd like to acknowledge for offering financial or emotional support?
To Amanda Follit at Possessive Management for taking care of us and supporting all of our musical endeavours, Rifaat Powell for letting us sleep over after gigs and driving us to our rehearsal space when it's raining and everyone that likes our music.
Any last words?
No, this has literally been the longest interview we've ever done.
News Was Posted on: 22nd July, 2016