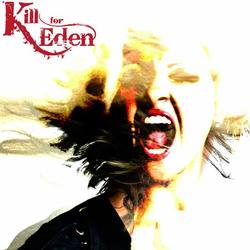 After talking with Phil Rogers from BritRockArmy PR, he pointed me towards one of his bands and here is one I had the pleasure of adding and listening to their music at the same time, What made it even better was when the responded and answered a few questions for me so we have more information about them on the website, So lets find out more about Kill for Eden
What's the name of your band? What's the origin of that name? Have you changed the band's name before?
Kill for Eden represents the irony that throughout history, in the name of religion, people have killed in order to preserve their ideology of Eden (purity of their beliefs) and happily kill those who don't conform. Most religion teaches its followers to seek a place of Eden here on earth (ie a place free from sin) but ironically in order to find it, it creates fanatics who will kill for it (ie heaven, Eden, Janna (Islamic heaven). Look recently at Islamic fundamentalists....

Also in the past many wealthy groups of whites have killed to preserve their high quality of life. Take slavery in southern America. Whites didn't want to share their Eden with blacks and killed to preserve their selfish greedy lifestyle in the American civil war. We have seen this happen throughout Africa, Israel, and of course across the British empire.

In a way we still do this with first world countries leeching off the planets resources so we can live the lives of luxury at the expense of the planet and the poor who work hard for little return.


Please list the name, and respective instrument of each band member.
Lyla D'Souza – Lead vocalist
Dave Garfield Bown – Guitar
Andrea Basiola – Guitar
Mike McGuinness – Bass
Wally Miroshnikov – Drums
What genre of music do you consider your work to be? Who are your major influences?
Hard Rock/Metal. Led Zep, Deep Purple, The Cult, Garbage and Blondie to name but a few.
When did you form your band? What inspired you to make music together?
2010 - An irresistable need to bring strong melodies coupled with bone crunching riffs to the mainstream masses
How long have you all known each other? How did you meet?
We've known each other for 4 years or more and met via various web band pages and at gigs.
Apart from Mike the bass player who was running a sex shop in Soho and we liked the cut of his jib,
Who writes your songs? What are the main themes or topics for most of your songs? Do you think these topics will change over time?
Dave Bown and Lyla write the songs and they are mainly about life in general and perhaps historical events or people.
Could you briefly describe the music-making process?
Dave writes the riffs and grooves and Lyla the melodies and lyrics.
Then the band adds their own fairy dust to the mix.


Do you have a record label? Are you a member of any music organizations?
We are Independent at this time and with PRS
What are your rehearsals generally like? Do you have a set time each week in which you practice or are rehearsals more spontaneous?
Spontaneous eruptions of creativity as and when there are biscuits on offer
What can you tell me about your instruments? (i.e., Are you subject to brand loyalty or will you play with whatever's available? What made you choose the instruments you have now? Was it cost or was it a style/model/brand/colour preference?
We play whatever comes to hand, Gibson Les Pauls and Marshalls or Fender, they are all tools of the trade.
How has your music evolved since you first began playing music together?
It has become more mauve and less scarlet.

Where is the biggest you have performed? What are your favourite and least favourite venues? Do you have any upcoming shows?
We have played various festivals and gigs over the years and loved playing the 100 Club in London.
Upcoming dates include:

Fri Nov 21 2014 Forty Two Worthing, UK
Thu Nov 27 2014 The Horn St Albans, UK
Sun Feb 22 2015 SOUTH SEA LIVE Sheffield, UK
Which songs do you perform most frequently? Do you ever play any covers? Do you have a set play list?
We always include Kerosene in our set list but covers only come along occasionally if we're in the mood.
What have you got planned for the next 6 months? Hopefully something fantastic.
We are currently in pre-production for our 2nd album and will also be gigging around the country.
What is your favourite festival (played) / (been to)?
I personally enjoyed Reading, good meaty vibes!
If you could sing one song on X-Factor, what would it be?
'Die Motherfuckers Die' - a self penned ditty I'm saving for the unlikely occasion.
What is the funniest thing that has happened to you recently?
Watching X-Factor
What has been your biggest challenge as a band? Have you been able to overcome that challenge? If so, how?
Rising above the mediocre and gaining attention is an on-going struggle which we achieve by constant hard work.
What's your ultimate direction for your band? Are you seeking fame and fortune?
Mainstream recognition and bringing some sunshine into any music lovers day.

What advice do you have for people who want to form their own bands?
Don't. Unless you need to do it as much as you need to breathe oxygen.

How can fans-to-be gain access to your music? Do you have a website with sample songs or a demo CD?
Is there anyone you'd like to acknowledge for offering financial or emotional support?
To all KFE fans we appreciate your love and support and we hope to spread a little more love around with our next album - see you at a gig!

Any last words?
Visit http://www.killforeden.com/ and join our mail list for latest info on the band.
Follow us at https://twitter.com/KillForEden
Like us at https://www.facebook.com/killforedenrock
News Was Posted on: 29th October, 2014