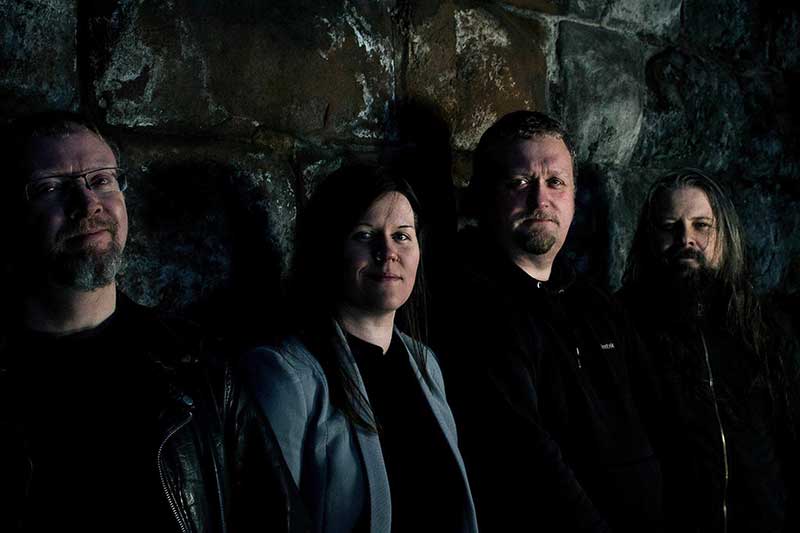 What's the name of your band? What's the origin of that name? Have you changed the band's name before?
We are Temple Black.
The background of the name comes from Shirley Temple. When she married, her name changed to Shirley Temple Black. Dave S (Bass Player) mentioned the name without initially telling us where it came from. We all liked it despite the origin and so that's how we found our band name!
We haven't changed the band name since.
Please list the name, age and respective instrument of each band member.
Rachael O'Hara: Vocals, Rhythm Guitar
Dan Matthews: Lead Guitar
Dave Standbridge: Bass
Dave Barrows: Drums
The boys are all in their forties. Rachael is the baby of the group, but one never asks a lady her age…
What genre of music do you consider your work to be? Who are your major influences?
With so many different influences from Thrash Metal, Rock, Jazz and Country it's difficult to put us into a specific genre. However, we would consider ourselves to be Alt Heavy Rock. We tread the line in sub-genres between Rock & Metal.
When did you form your band? What inspired you to make music together?
We formed in October 2013, and you could say we were inspired to make music at the very first get together to practise. We wrote two songs!
How long have you all known each other? How did you meet?
The two Daves met about 10 years ago when bass player Dave S' old death metal band was going to get back together and Dave B joined as a drummer but it didn't take off. Both stayed in touch trying to form bands but then they met Rachael and Dan and Temple Black was formed.
Rachael and Dan have known each other for about 5 – 6 years. They originally met when they separately joined a mod band in the early stages of their musical careers but both were kicked out for 'being too rock'. Soon after, Dan was playing at a guitar show organised by his guitar teacher at the time, which Rachael attended and they decided to form a band of their own - The Dirty Dissonance.
This Dirty Dissonance was effectively a 4 piece punk rock band and, after a couple of years, the members went their separate ways to explore different musical options. Dan and Rachael stayed in touch until Dan asked her to come along to a rehearsal which, yes that's right, both the Dave's were at too!
Who writes your songs? What are the main themes or topics for most of your songs? Do you think these topics will change over time?
Rachael writes the lyrics for most of the songs, however, there has been input from other band members. Dave S wrote Heavy Heart. Dan wrote Black Dog and collaborated with Rachael to write Nobody's home.
The music is written together and all band members contribute.
The main themes are very dark but the topics change all the time depending on how Rachael is writing. She likes to write about real-life situations as well as fictional subjects.
Below are a few examples of what some of our songs are about.
• Black Dog – This is a serious song about dealing with depression. Anyone who is going through, or had gone through it will understand, through the lyrics. The title 'Black Dog', is often used as a euphemism for depression (most famously by Winston Churchill). Through personal experiences in the band, we would encourage anyone who is suffering from depression and it's affecting their life, to seek advice because you're not alone.
• As Above so Below – This is about the transition to becoming a vampire and, when the transformation is complete, the seduction, sex and luring people (prey) into your memorising trap of pleasure and pain.
• Heavy Heart – This is about the heartache and the pain of losing someone.
• My Butterfly – This song is about two serial killers falling in love with each other's weird and brutal minds. They become parasites, spreading disease, controlling beauty then killing it just like how they do with a butterfly.
• The Reaping – You're on death's door and, as your last act, you give your life to save another's. In a wider sense, it's about coming to terms that it's time to face either the door to heaven or to hell.
• Iniquitous – Is just about everything evil!
Could you briefly describe the music-making process?
It pretty much always starts in rehearsals. Sometimes one of the band has brought a riff or some lyrics and we just say 'let's jam' and see what we come up with. As soon as we have a sound we like, Rachael starts to picture what the lyrics should be like and concentrates on that. We take very basic progress recordings and listen back to identify where to improve. It might then then go on to the list for an EP or Album. Then, when the list has been made we check our pockets and go the studio!
Do you have a record label? Are you a member of any music organisations?
No, we don't have a label and were not a member of any music organisations.
What are your rehearsals generally like? Do you have a set time each week in which you practice or are rehearsals more spontaneous?
We rehearse every Wednesday for 2 hours and meet up after rehearsals to discuss designs, running orders of songs and anything else important. If we have any gigs we put in extra practices as needed. We occasionally meet up to discuss other issues like putting together an album or the like.
How has your music evolved since you first began playing music together?
Since we have been playing together, our music has evolved to become darker and heavier.
How do you get psyched up for a gig?
I would like to say we all bump chests like the New Zealand Rugby team, but we don't. We pretty much take the piss out of each other and have a laugh. We go around getting to know the other bands, the team of promoters, stage management and sound engineers. It's always less nerve-wracking to know you are in good hands!
Do you have any upcoming shows?
Metal 2 the Masses – semi-finals on 19th March and 'Mosh Against Cancer 2 Coventry' on the weekend of 6-9th April. There are others in the pipeline, but we're not able to announce them just yet
Which songs do you perform most frequently? Do you ever play any covers? Do you have a set playlist?
The songs we perform the most are; Heavy Heart, Iniquitous, White Noise, Black Dog, The Reaping and My Butterfly.
We don't play covers at the moment, but when we were a 5 piece band we played a version of Danzig's 'Mother', which you can still find on our Sound Cloud page!
We don't have a 'set' playlist but we choice our list to suit whatever gig we are doing.
What have you got planned for the next 6 months? Hopefully something fantastic.
Obviously fantastic! We are going to be recording our debut album! We will have new t-shirt designs, new merch and maybe a new look (but not over the top)!
We are excited with the tracks we have chosen so far and might even be putting out a vote to see what our fans would like to hear on there!
What is your favourite festival (played) / (been to)?
Dave S (Bass); Monsters of Rock Donnington 1988
Dan: Mine was Reading Festival 2003. System of a Down were main support and Metallica headlined, just after James Hetfield came out of rehab. Best I ever saw them play!
If you could play alongside any band which one would you pick?
Where do we start! Between all of us there are just too many to choose from *brains explode* !!!!
What is the funniest thing that has happened to you recently?
Rachael's top came undone when we were mid-set. A member in the crowd told her when we finished the song and to save face she undid another button!!
What has been your biggest challenge as a band? Have you been able to overcome that challenge? If so, how?
We're lucky that we all get on really well with each other so, even when we are stressed and have disagreements, we find a way to get over it.
But once we had our equipment sabotaged before we went on. One of the guitar amps had all been turned to '0' and someone had messed with the PA settings but we were lucky these were noticed before we played.
We knew who the culprits were so you could say our biggest challenge was not saying anything. It was at that point we realised that, thankfully rarely, people will do stuff like that or maybe say not quite so pleasant things and collectively as a band we have to learn to be professional, ignore it and give the gig our all!
When did you start to sell merchandise, and what do you have for sale? Where can people buy your merchandise?
We started selling merchandise about 2 years ago when we had our gold and black design t-shirts in a very limited run. Last year we realised our Illuminati all-seeing eyes thirst with the Latin saying 'Ut Supra Et Infra' which means 'As above so Below'. We launched them the night we first played our song 'As Above so Below'. As we will be releasing a new t-shirt this year we are only selling the Illuminati ones for £8 each. You can go directly to our store to buy one
What's your ultimate direction for your band? Are you seeking fame and fortune?
We wouldn't say no if the offer was there!
What advice do you have for people who want to form their own bands?
Get out there on the websites like Joinmyband or Find a Musician. Meet like-minded people and all meet somewhere safe like a rehearsal studio and just jam. That's where it all starts and you make amazing friends on the way. We're not going to say it's easy because you do have your ups and downs. But when you finally get that band you know you want to go 'all the way' with its amazing. The feeling when you play live is unbeatable and the friendships you build are special.
How can fans-to-be gain access to your music? Do you have a website with sample songs or a demo CD?
Go straight to our website www.templeblack.com and all the links are there. Soon we will be releasing free downloads of some of our EP tracks so stayed tuned folks!
Is there anyone you'd like to acknowledge for offering financial or emotional support?
The biggest person we would like to acknowledge is Paul Bielby. We can't even cover how much support and friendship he has given each one of us.
We don't say this often but we love you pineapple mash potato man and thank you!
Any last words?
We want to say massive thanks to the below people for everything you have done for us and apologies if we have missed anymore.
The Fans
Our families
Andy Faulkner
News Was Posted on: 14th February, 2017