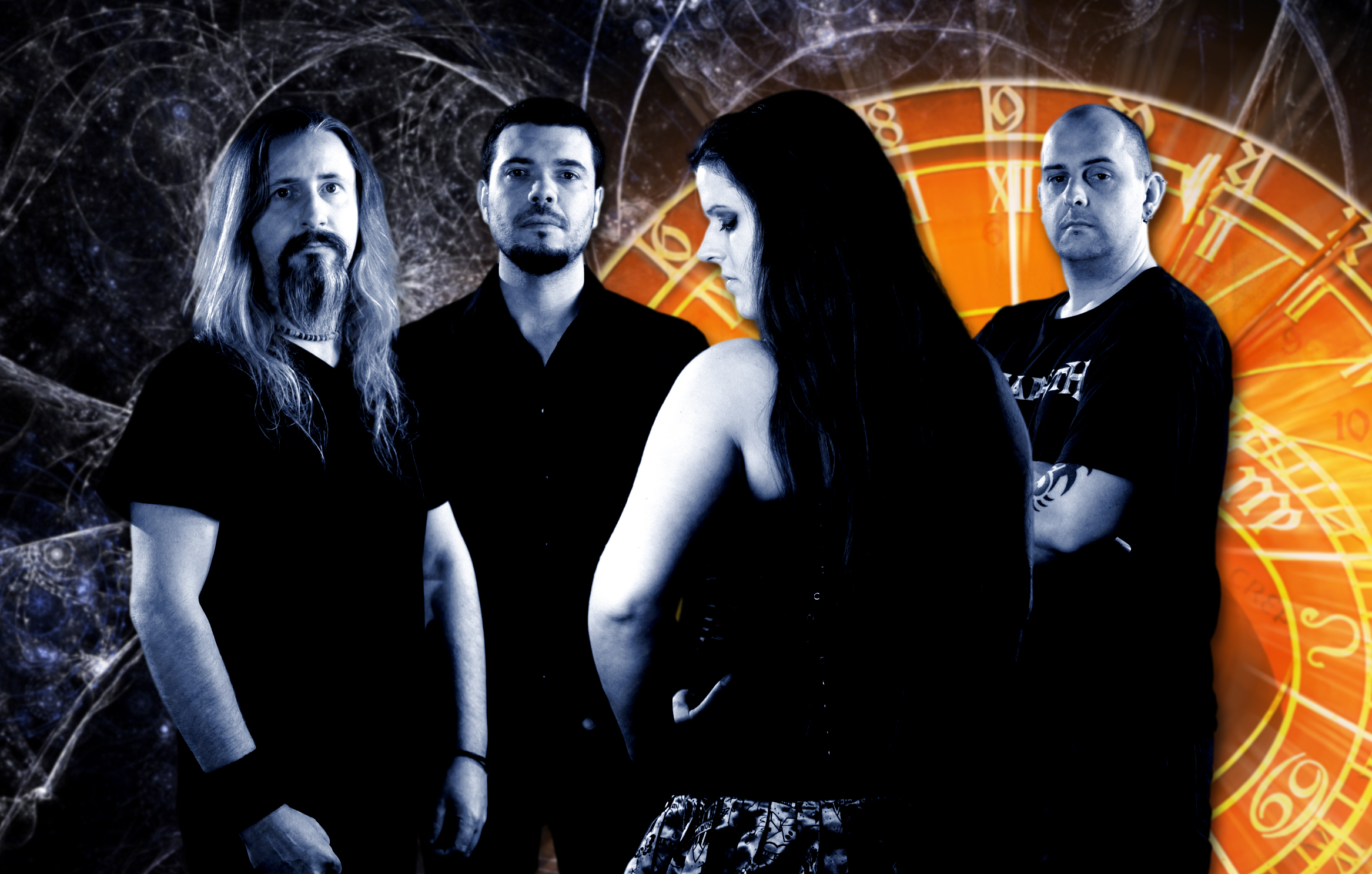 Evyltyde's self-titled release is set to be unleashed upon the world on January 19, 2015."Evyltyde" channels the musical essences of Sabbath, Pantera and Dio then adds a dash of Grace Slick White-Rabbit-era psychedelic coolness for an entirely eargasmic experience.
Evyltyde's beginnings involve a story about guitarist Danny Merton and vocalist HannahDelaney coming together in the UK to work on, "a project to reform a cult UK metal band from the 80s", whose identity is not stated. With that project being abandoned the pair found themselves writing the kind of classic metal that embraces both riff and melody and decided to embark upon their own journey.
The album begins with the slower paced yet ultra-groovy "Down Below", whose monstrous main riff sets the tone for this marvelously recorded and performed album. On first hearing I was instantly struck with Delaney's voice and, knowing that I'd heard nuances such as her's before, pondered whose influence I might be hearing. In a thunderclap moment it dawned, the essence of another voice, perhaps the influence of the one and only Grace Slick, Jefferson Airplane's psychedelic goddess of the late '60's, famous for the likes of "White Rabbit". Note to self: next time Hannah pops into the Metal Nation Radio chat room you really must ask her if this is indeed a fact.
"Kick You Down" is absolutely my best-loved heavy track on the album and I make that distinction because my favourite track isn't heavy at all – but we'll get to that. This track is a head-banger with Merton showing his riffage prowess and tasteful lead work. Delaney'svoice takes on a harder tone and remains in the mid-range, a welcome change from many from the typical soprano soarings of many of today's female fronted bands.
Perhaps my favourite vocal work on the album is found on track 3, "What Have We Become" that begins with some nice choral vocal work before marching into an all out thrash vibe then switching gears again to Delaney's melodic meanderings over power chords. Memorable.
Other highlights on the disc include the NWOBHM infused "Living to Die" and "Guilty" a hard rockin' track with a great late '80's classic metal vibe that features more of Merton'sunderstated, excellent lead guitar work and Delaney belting out a memorable chorus.
My favourite song on the album however is also the softest, an acoustic ballad midway through the disc titled, "Disappear". I will admit to having tears in my eyes the first time I heard it. Delaney's haunting vocal tells the story of an alcoholic and his girl/wife, the lyric tracing the painful process of watching a loved one spiral downward until they disappear. If you've ever experienced this then be prepared for an emotionally charged response to this track. If not, grab a box of tissue anyway. It's so soulfully well-done that I challenge anyone, the 'toughest' metalhead included, not to have a profound emotional response.
Overall Evyltyde is yet another amazing discovery that came to Metal Nation Radio through our music submissions department. I for one am thankful that they included us."Evyltyde" will be a regular player throughout the year for me and don't be surprised if you find it on Too Metal For Church's Top 20 end of year list for best albums. It's early, yes, but that is how good this release is.
Taken from http://metalnationradio.ca/album-review-evyltyde-evyltylde/ by request of the band
News Was Posted on: 18th January, 2014