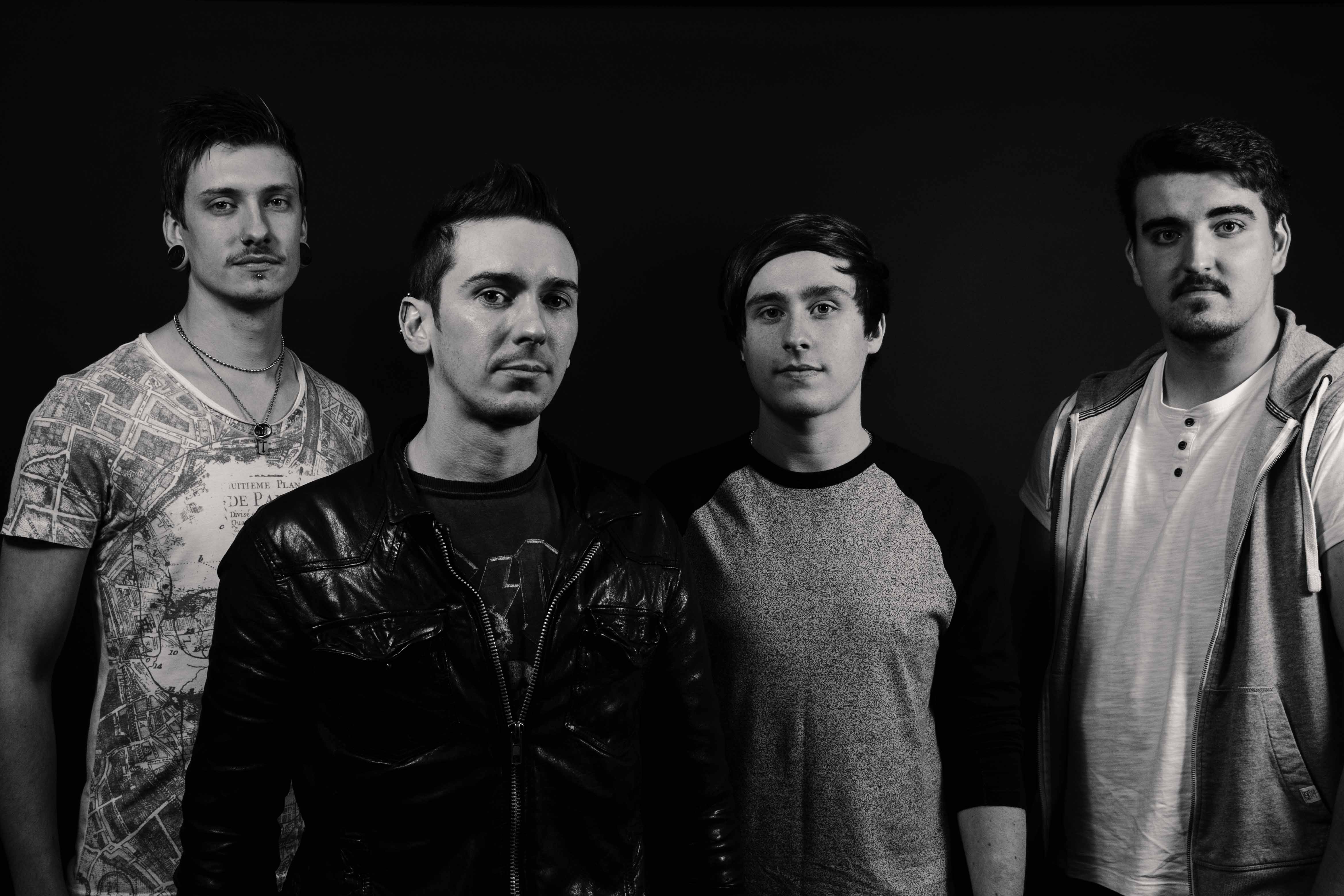 Can you briefly introduce yourself to our readers and give them a brief insight into what Martyr de Mona have been up to?
Hi, We're Martyr de Mona. I'm Louis Hale (Vox/Guitar). The other members are Josh Jones (Guitar/Vox), Josh Wooldridge (Bass/Vox) and Ashley Leatherland (Drums) and we're a rock/metal band from West Midlands in the UK.
We were formed in 2007; have released a few records over the last few years and enjoyed several UK tours and big shows. We've supported some big bands including Skillet and Sonic Syndicate and also played acoustic shows at the LG Arena with bands like Guns N' Roses, Black Sabbath and Alter Bridge.
We have a new album out called 'Impera' that we're hoping your readers will take the time to listen to!
That's quite a few big bands! How did those shows come about?
With the LG shows our manager got in touch with the NEC Group initially and we were picked to play the Forum before Alter Bridge. We've been invited back several times! Obviously we're never going to turn down the opportunity to play in front of 100's of people!
You mention that you've released a few records. Can you tell us a bit more about those?
Our first record 'Eva' was a 4-track EP that came out in 2010. It was basically a collection of 4 demos that we'd recorded since 2007 with various line-ups. The lead track Eva had been recorded and rerecorded a few times and had become a fan favourite at live shows. Although we'd formed in 2007, it wasn't until the EP release that things started to take off.
As soon as it came out we started to get some bigger shows and our fan base grew pretty quickly in the Midlands, so we decided to record an album straight away. 'Martyr de Mona' came out in 2011 and we toured all over the UK for nearly a year.
We had a lot of success pretty quickly, shot our first video and started recording again before we had a bit of a line-up revamp.
So, what was the next step in Martyr de Mona's evolution?
We quickly put a new line-up together which included Ant Rickett on guitar, Josh W and Ash and started touring straight away. We finished off the previous recordings and released the double-A-side 'Memento/Contagion'. It was kind of like clearing out the closet of anything MDM had written up to that point so we could start writing the next record from afresh.
And that next record was 'Impera' which we've recently reviewed at AHM. Can you tell us more about the making of the record?
The writing sessions for 'Impera' were probably the most productive months in our history. Around the time we released 'Memento/Contagion' we signed with an independent label and Universal Music distribution so it really focused us into challenging ourselves. We were intent on making the best record we could and didn't set ourselves any deadlines.
We researched several producers and found Romesh Dodangoda who had worked with Motorhead, Funeral For A Friend, Sylosis and also a few bands on the local circuit like Liberty Lies and Voodoo Johnson who we admired. We liked the natural sound of his production compared to a lot of modern records which use unnatural drums. We sent Romesh several demos that we'd recorded at with Russell Tite at Blue Whale Studios in Birmingham and he liked what he heard.
It took us about 9 months to write and demo the tracks and we chose 10 from about 15 tracks for the final list.
What happened to the tracks that didn't make the record?
They're still in the vault! We may pinch one or two riffs but probably won't do anything else with them. The 10 we chose were definitely the best 10. We couldn't have been happier with the choices and how the record turned out.
What were your main influences during the writing process? Were there any lyrical concepts?
Collectively, we are influenced by bands from the breadth of rock & metal and all of its sub-genres. From grunge to death metal; classic rock to djent, it's all influenced us in different ways to form our sound. MDM have never stuck to one particular formula, perhaps naively, but it's us and part of our DNA. You could say the new guys were also influenced by MDM and the work ethic. We literally spent every spare minute writing and getting the music to a level we were happy with. Lyrically, there are some loose concepts about cause & effect and time & space which is also evident in the artwork. Kyo is about a fictional character which we may take further on the follow up. There are references to the history of the band too, both lyrically and musically in Gravity Breaks and Nothing Sacred. Hopefully the listener can establish their own meanings in the lyrics.
Tell us more about the recording process. How long did it take? Where did you record?
Whereas writing was a considerable challenge, the recording was probably the most enjoyable and relaxed part of the whole process. We spent about 3 weeks in Cardiff working from about 10 'til 5 or 6. Previously we'd done much longer recording sessions but this time we were fully prepared so it seemed to run a lot smoother and Romesh was very decisive with his ideas from day one. We recorded the drums and bass at Monnow Valley Studios. It was an amazing experience, especially knowing Led Zeppelin and Black Sabbath had used the same studio. The room was inspiring and Ash and Josh nailed their parts.
We then headed to Romesh's Long Wave Studio where we did all the guitars and vocals. We used two separate rooms and whilst I recorded the vocals with Romesh, Ant recorded most of the guitar parts with Rob Thomas, who was Romesh's engineer.
The guitars sound huge. What instruments did you use on the record?
There are quite a few layers on there. Most of the guitar parts were played on a Gibson SG. Ant used a Gibson Les Paul for the lead as well as his own Ibanez. We borrowed a Peavey 6505 off Funeral For A Friend and paired it with a Blackstar 100 for the guitar sound. The Peavey actually blew up so we had to borrow another! Cost us a crate of cider!
So the recording is complete. What was the process and plan for the release?
I'd just like to give credit here to Robin Schmidt at 24-96 Mastering, Josh Farnell who did the artwork, Steve Braund at CWD Media for the CD layout design, Ross Pickett for the merch designs and Steve Gerrard Photography. They all put the finishing touches to the product. Ultimately, we felt we had something special on our hands and couldn't have been happier.
Since signing we hadn't directly been in contact with the label. This had been left with our manager Chris who ended up dealing with literally everything to do with the release as well as booking the tour. We were left to concentrate on the music and once we'd recorded the video for the first single we set about rehearsing.
We are obviously aware that MDM are re-releasing the album one year on from its initial release. Can you explain the reasons why?
As soon as the album was released we were made aware of several issues with the label and ultimately there was no working relationship. It was a very difficult and disheartening time which proved to be very costly, both in terms of time and money.
The release itself was as successful as it could have been in the circumstances and we're very thankful and proud of what we achieved. We charted on Amazon, had national radio play, toured the UK and headlined to 800 people at the Wulfrun Hall. Despite the issues with the label we only take the positives. Playing such a big show and proving that an 'independent' or now 'self-signed' band like us can do it is hopefully something that other bands starting out can take inspiration from. It also proved how strong a music community we have in the Midlands. Everyone was there! We can't thank the fans and press enough and they are our main influence and driving force.
Thankfully, the label issue is behind us now and we're proud to say we're still here and we re-release 'Impera' on 20th April 2015 via our own label Eagle Two Records; fittingly 1 year on from the day of the initial launch!
What can our readers expect from MDM in the future? Are there any further plans?
Firstly, we have welcomed Josh Jones on guitar recently. We're all excited to have his talent on board. We've joined forces with FatAngel Management who together with Chris will be driving us forward. The plan is to tour the record for the foreseeable and make up for some lost time and visit the towns we couldn't last year and maybe eventually venture into Europe which is a big ambition. We'd love to play Bloodstock and some of the big festivals and we will surely return to the Wulfrun Hall one day. We have some great shows announced already and many more to come. We're hoping to release our next single and video soon and the plan is to start writing during festival season.
Thank you for your time answering these questions for AHM. Do you have any last words for our readers?
Thanks for having us!
Check our website www.martyrdemona.com for all upcoming dates and releases. Thanks for sticking with us! See you on the road!
Download the track 'Siege Mentality' for FREE exclusively on Soundcloud
News Was Posted on: 15th April, 2015