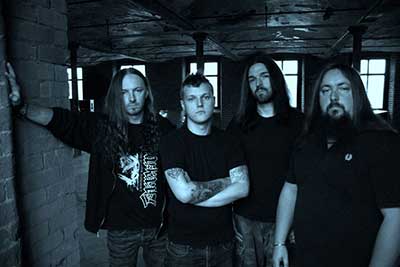 What's the name of your band? What's the origin of that name? Have you changed the band's name before?
It's Solitary, there's not really any origin when we formed we considered Solitude but one of our mates suggested Solitary so we went with that.
Please list the name, age, and respective instrument of each band member.
Rich - Vocals/Guitar,
Royston - Drums,
Andy - Lead Guitar,
Dave - Bass
What genre of music do you consider your work to be? Who are your major influences?
We are predominantly a Thrash Band but we haven't taken a retro approach to writing music our material sounds modern and relevant to the point it time it was released. In terms of influence Slayer, Testament, God Forbid, and the Gothenburg sound are probably our biggest influences, we've always been focused on getting songs that flow well and have memorable hooks which people can relate too.
When did you form your band? What inspired you to make music together?
June 1994, metal inspires everyone every day we just wanted to be in a band
How long have you all known each other? How did you meet?
Years, Royston joined via an add in Kerrang, Andy was advertising in a music paper called Loot and we were looking for a guitarist and Dave came to see us play in Blackpool and when we needed a bassist I got in touch with him.
Who writes your songs? What are the main themes or topics for most of your songs? Do you think these topics will change over time?
We all write the music me or Andy tend to come up with the riffs, we then arrange the songs together.I write all the lyrics, they are all different I don't have a set theme I just tend to write about things or situations rather than my own personal expierences.
Do you have a record label? Are you a member of any music organizations?
Yes we are with Copro Records and are managed by Imperative Management.
What are your rehearsals generally like? Do you have a set time each week in which you practice or are rehearsals more spontaneous?
We rehearse twice a week on a Monday and Wednesday evening, it really depends what we have coming up if we have shows then we run through the set, if we are writing songs that is a bit more frustrating as we are just playing bits and pieces rather than full tracks.
What can you tell me about your instruments? (i.e., Are you subject to brand loyalty or will you play with whatever's available? What made you choose the instruments you have now? Was it cost or was it a style/model/brand/colour preference?
We use Engl Guitar heads and Marshall 4x12s loaded with Celestion Vintage 30's Royston has two pearl masters kits one for rehearsing and recording and one for live work he uses Z custom's cymbal wise. Dave has Warwick bass cabs and a TC Electronic head. Guitars wise I use Peavey Vandenberg Guitars and Andy uses Ibanez.
How has your music evolved since you first began playing music together?
I hope so early on we had more of a Machine Head Burn My Eyes kind of vibe, and the last album was more akin to the Gothenburg sound, and I feel our latest album displays the best parts of everything we've done and incorporates all our influences and expierence.
Do you have any upcoming shows?
We are playing Beermageddon in August and Hammerfest in March next year

Which songs do you perform most frequently? Do you ever play any covers? Do you have a set play list?
We usually play one off "Nothing Changes", Predator, Requiem, Keep Your Enemies Closer and The Aftermath from "Requiem" and most of the new album, we have covered Into the Pit and The American Way so they occasionally appear in the set.
What have you got planned for the next 6 months? Hopefully something fantastic.
Apart from the live shows we hoping to release our new album
What is your favourite festival (played) / (been to)?
I would say Wildfire is our favourite festival we've played to date and I went to Alcatraz in Belgium a couple of years ago with Xentrix we stopped in the same hotel as Arch Enemy and I got to spend time with Twisted Sister, Prong and Scared Reich it was amazing.
If you could play alongside any band which one would you pick?
What has been your biggest challenge as a band? Have you been able to overcome that challenge? If so,how?
I just think being in a band that releases albums is the biggest challenge, we just make sure we manage things well financially and make wise choices.
When did you start to sell merchandise, and what do you have for sale? Where can people buy your merchandise?
We first printed T Shirts in 1999 we have allsorts T Shirts, Beanies Hoodies, Patches Keyrings , it's all on our website
What's your ultimate direction for your band? Are you seeking fame and fortune?
I don't think we'll ever make a fortune but it would be great for more people to know about us, it would be good to have some investment to support the band.
What advice do you have for people who want to form their own bands?
Just tread carefully there's lots of people who promise you everything but deliver nothing apart from depleting your bank account.
How can fans-to-be gain access to your music? Do you have a website with sample songs or a demo CD?
All our albums are available on our website
News Was Posted on: 7th August, 2016