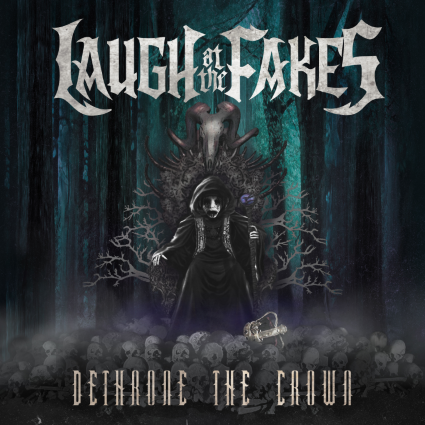 What's the name of your band? What's the origin of that name? Have you changed the band's name before?
We are called Laugh At The Fakes. When I put this group together, my goal was to start an uncompromising rock band. I knew by naming the band 'Laugh At The Fakes' that we would be vowing to stay true ourselves and to our fans. It's not only a band name, it's a statement that seems to be more and more relevant with every person you meet or place you go. You come across genuine people and fake people all the time.
Please list the name and respective instrument of each band member.
Everett Mason-Vocals and Guitar,
Galen Weir-Bass,
Kevin Daliri-Guitar,
Chris Avalos-Drums
What genre of music do you consider your work to be? Who are your major influences?
I would consider us Hard Rock/Metal. Some of our main influences include Black Sabbath, Iron Maiden, Pantera, Megadeth, Alice In Chains, Guns N' Roses, Judas Priest, Soundgarden, Black Label Society, Anthrax, Metallica, Led Zeppelin, Alice Cooper, Dio, Deep Purple, Opeth, Mastadon, Death, Gojira, The Rolling Stones, Jimi Hendrix, Corrosion of Conformity, Down, ACDC, and Slayer.
When did you form your band?
Late 2010.
How long have you all known each other? How did you meet?
I've known Galen (bass player) for many years. He was my next-door neighbour in the house I grew up in. Kevin responded to a guitar add we posted last spring and has been in the band since July. Galen and I knew Chris from a previous band we were all in. So we reached out to him in August and he has been playing with us ever since.
Who writes your songs? What are the main themes or topics for most of your songs? Do you think these topics will change over time?
I wrote all the material on our debut EP "One Night Only" and most of the stuff on "Dethrone The Crown." Galen and I co-wrote Death Awaits and Fighting Dirty. Lyrically, I always write based on my state of mind at the time. I never think, we really need a party song about drinking and girls, or we need a really fast heavy song. It's important to express your true feelings or else your band will sound contrived. With that said, I do like drinking, girls, and fast heavy songs.
Could you briefly describe the music-making process?
With our band it always starts with a riff or a musical idea. Rarely do we write the lyrics first. We have a much easier time coming up with riffs than lyrics. With Dethrone, I had ideas for about 8 songs and Galen had written the music for 2 songs. We scrapped one of the songs and went in to record, what I think, are our best 9 songs to date.
Do you have a record label? Are you a member of any music organizations?
We do not have a label at this point. We are 100% independent. We are all members of Socan, so we can collect our massive royalty cheques once our music fills the mainstream airwaves haha!
What are your rehearsals generally like? Do you have a set time each week in which you practice or are rehearsals more spontaneous?
With our unpredictable schedules, our rehearsals are more spontaneous. Since this is still an independent band we need to juggle our jams around our work schedule. I live for the day that going to rehearsal, gigging, and recording is the full-time gig.
What can you tell me about your instruments? (i.e., Are you subject to brand loyalty or will you play with whatever's available? What made you choose the instruments you have now? Was it cost or was it a style/model/brand/colour preference?
I play a Randy Rhodes Jackson and Gibson Voodoo Flying V through a Mesa Boogie Dual Rectifier. Although I love cool gear, I'm not a very materialistic person, so as long as it works and it sounds good, I'm happy. I'm not on a constant search for the next best amp, pedal, or guitar. If I really need something, I'll get it, otherwise I'm quite content with what I have. My passion is getting better at the guitar, not the number of guitars I own. I could never understand people that spend thousands of dollars on vintage guitars and amps just to play the same three blues licks on each of them.
How has your music evolved since you first began playing music together?
This line-up has only been together since August, so we'll see!
Which songs do you perform most frequently? Do you ever play any covers? Do you have a set play list?
We try and change or set every show. Right now we have a repertoire of 15 original LATF songs to pick from. Our sets are usually about 40 minutes. In that time we can do about 6 LATF songs and a cover.
What have you got planned for the next 6 months? Hopefully something fantastic.
We have some gigs lined-up, some music videos to shoot, then hopefully more touring.
What is your favourite festival (played) / (been to)?
I think the best festival I have been to was the first Gigantour in 2005. This was at a time when Ozzfest was getting very expensive. So the Gigantour, put on by Megadeth, was an alternate festival that had more fan friendly ticket prices and an equally ,if not better line-up than Ozzfest. The bill had Megadeth, Dream Theater, Fear Factory, Nevermore, and Symphony X. Dillinger Escape Plan was even supposed to play but they had to pull out.
Here in Toronto, Canada the security at concerts has became very lame over the last 8 years. Us concert goers really saw the security morph into a very power hunger machine. People started getting kicked out of concerts for smoking joint or a cigarette, or sometimes for just having too much fun. I agree that sometimes there is the odd idiot crowd but for the most part, us metalheads can police ourselves. We stick together and although we get very passionate and sometimes borderline insane about the music we love, we have more respect for our peers than any other music fan, hands down! So with this show being in 2005, I remember it being that the last show in Toronto where security was less power hungry. The vibe was great.
If you could play alongside any band which one would you pick?
Iron Maiden.
What is the funniest thing that has happened to you recently?
A few weeks ago Galen and I arrived early for rehearsal, so we decided to go for a smoke to kill some time. We drove down to the lake for some nice scenery (about 5 minutes from the rehearsal space). It was cold outside and Galen was feeling under the weather, so we stayed in the car. Galen is my oldest friend in the world so I know him pretty well. He has a great sense of humour but if their is one thing he doesn't find amusing, its dealing with phones and computers. So while we were smoking Galen was trying to show me a youtube video on his phone, however it wasn't opening. He was already annoyed with his phone, swearing at, tapping the screen as hard as he could, yelling at it, not to mention he was sick, so he wasn't in the most patient mood. Galen handed the phone to me, I scrolled down to the play button and sure enough the video played. Right after I handed the phone back to Galen he started coughing up lung. At this point Galen had his smoke in one hand, his phone in the other and since he was coughing, he needed to spit. He opened the car door(with his smoke still in one and hand and his phone in the other) and attempted to hork on the street. The attempt fell short and landed on his arm. Now the real struggle began. He wanted to keep his smoke lit but he also wanted to wipe the loogie off his arm. This lead to him looking at one hand (occupied with the phone) and cursing, then looking at his spit filled sleeve and cursing more. This went on for about 10 seconds but it seemed like hours. It reminded of me when Ace Ventura was harpooned in each leg but instead of saying "ahhh" and "ahhh" I heard "holy shit, fuck, fuck fuck, really?" then "fuck, fuck fuck." I was absolutely dying in laughter as a frustrated Galen contemplated how to wipe his saliva off his arm while keeping his smoke going. He eventually figured that it was time to put the phone down in exchange for a tissue. He didn't find it that funny at the time but we can look back and laugh. I'm sure he has countless funny stories about me too.
What has been your biggest challenge as a band? Have you been able to overcome that challenge? If so,how?
In an independent band it's difficult to have the energy to promote and work the business side of things. We all just want to jam and get better as musicians, so it's hard to put down the guitar and go to the computer to work the emails and social media. Throw a day job into the mix and things can get pretty hectic. I think that is why a lot of talented musicians/songwriters give up. It's a lot of work for very little or no money at the beginning at least. Whereas If you join a cover band, it's easier to get booked and get paid a guaranteed amount. Personally, I don't find playing only covers very gratifying but I understand where those players are coming from.
What's your ultimate direction for your band? Are you seeking fame and fortune?
We are still following the rockstar dream. You have to dream big. We want the rock and roll lifestyle and everything that comes with it.
What advice do you have for people who want to form their own bands?
I'm not sure that I am in position to give advice at this point in my career. I'd just say be true to yourself. A wiseman once said "Be yourself by yourself, stay away from me."
How can fans-to-be gain access to your music? Do you have a website with sample songs or a demo CD?
Yes. All of our music is available on iTunes, Amazon, Bandcamp, and Cdbaby. We have store setup on our website at www.laughatthefakes.com too.
Is there anyone you'd like to acknowledge for offering financial or emotional support?
Making an album is tiring and financially draining process but it's all worth it if the fans like it. I want to thank all our fans that continue to support and buy our music. I also have to give a shout out to all of magazine writers/interviewers/reviews and radio hosts in the metal community for spreading the word about this band and of course my parents. My mom was kind enough to let us rehearse in her basement. I'm sure when I moved out she didn't think I'd be coming back to play metal in her basement. So much for peace and quiet.
Any last words?
Keep laughing at the fakes.
News Was Posted on: 13th January, 2015