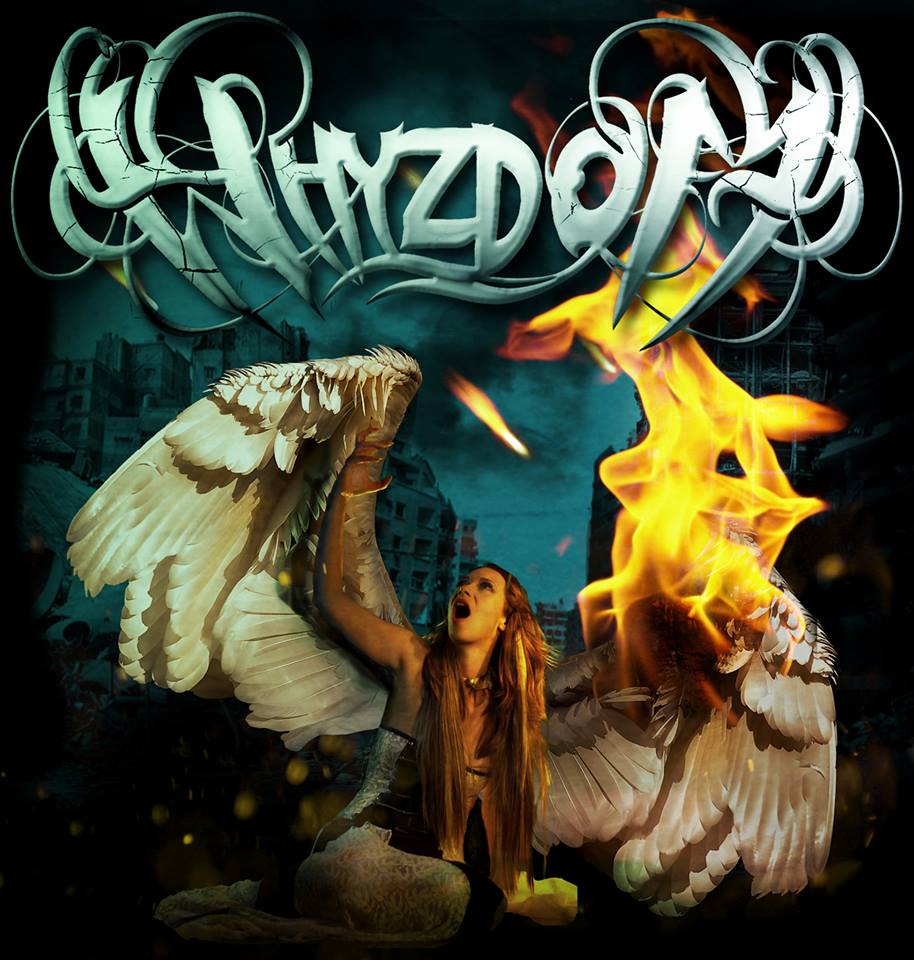 What's the name of your band? What's the origin of that name? Have you changed the band's name before?
The name of our band is Whyzdom. We wanted to have an original name, hence the weird spelling of the word "Wisdom". There's a nice contrast between the signification of the word which conveys a feeling of calm wise ageness, versus a metal attitude with heavy and intense music.
Please list the name, age, and respective instrument of each band member.
Marie Rouyer : Lead Vocals
Vynce Leff : Guitar and orchestration
Regis Morin : Guitar
Nicolas Chaumeaux : Drums
Tristan Demurger : Bass
Marc Ruhlmann : Keyboard
What genre of music do you consider your work to be? Who are your major influences?
Our music is very easy to define : it is purely Female Fronted Symphonic Metal. But there's sometimes some confusion in people's mind, who put any metal band with female vocals in this category, even if there's no symphonic side at all. When we say "Symphonic Metal", we do mean it. Whyzdom music is based on symphonic orchestra, that sounds like a real one. All parts are indeed written for symphonic orchestra, and all instruments are here, along a real symphonic choir.
It's hard to tell that we have real major influences. We have a sound on our own. We have our own musical color, that could sometimes be qualified as progressive. So, maybe we can say that Dream Theater influenced us when we were younger. But we also love bands like Dimmu Borgir, Septic Flesh, or even old Nightwish, Epica and After Forever.
When did you form your band? What inspired you to make music together?
The band was formed in 2007 by myself (Vynce). Firstly I found a suitable vocalist, and then asked friends that I knew before from other progressive bands, to join us. The link between us was that we all were very interested in Female fronted Symphonic Metal.
How long have you all known each other? How did you meet?
For some of us, we'd already met when we were involved in other bands a few years before. So when I started the project, I knew that I could count Tristan and Regis in. Nico was met from classified on the internet, as well as our first singer, Telya Melane and Marc.
Who writes your songs? What are the main themes or topics for most of your songs? Do you think these topics will change over time?
Songs are composed by several musicians in the band, and I gather all material and do the arrangements. Vocal lines are composed by me and sometimes by Marie.
The main topic of our album "Symphony For A Hopeless God" is religion, and also how it is used by men to wage war on earth. Of course, topics change from one album to another. The topic of From The Brink Of Infinity was the frontier between life and death. The topic of Blind was how people try to ignore reality to escape problems and responsibility.
Could you briefly describe the music-making process?
All musicians prepare song structure ideas with riffs and preliminary arrangements. I work on them to include some orchestra and the main melodic lines, with the help of Marie. Then we all see what are the best songs that should be fully developed. Full orchestration is done in the end by me.
Do you have a record label? Are you a member of any music organizations?
Yes, our record label is Scarlet Records. It is based in Italy. We are not specifically in any music organization.
What are your rehearsals generally like? Do you have a set time each week in which you practice or are rehearsals more spontaneous?
We don't rehearse that much. Typically twice per month. When we're preparing shows, we play the set to see how it flows to decide song order, and prepare some stage movement. Some other rehearsals are done to prepare songs for the albums.
What can you tell me about your instruments? (i.e., Are you subject to brand loyalty or will you play with whatever's available? What made you choose the instruments you have now? Was it cost or was it a style/model/brand/colour preference?
We are not endorsed by any brand. Tristan plays a Lag Bass guitar which sounds marvellous. Regis like Jackson USA guitars. He has tons of them. I have a Paul Reed Smith guitar which is fantastic, but it is more suited for melodic solo work. It's not really a metal guitar. So lately I bought an Ibanez guitar, which I equipped with a D-Sonic guitar pick-up from DiMarzio.
How has your music evolved since you first began playing music together?
There has been quite a lot of evolution on the vocal side, because we had a different vocalist for each album. Marie is our favorite vocalist so far, because she's got a wide ample voice, with classical mezzo-soprano tone, as well as heavy rock tone... and even some growls.
On the music itself, we've stayed with the same idea in mind : using the infinite possibility of orchestra mixed with heavy riffing. And we won't divert from that general direction.
How do you get psyched up for a gig?
Nothing really special. We just like to be together and travel. Meeting friends, fans, musicians. That's just fantastic and we enjoy all those moments. There's not much more to say.
Where is the biggest you have performed? Do you have any upcoming shows?
I think the biggest we did perform was the Metal Female Voices Fest in Belgium. It was the biggest stage, and a fantastic moment. But we also had a great show at the Mennecy Metal Fest, near Paris. The stage was also great with fantastic lights, and the organizers offered us to play 1h30, which is the longest show we ever made.
We have two upcoming shows at big fests. One at Made Of Metal Fest in Czech Republic, with Epica. One at FemME Metal Event, in the Netherlands, with Lacuna Coil.
Which songs do you perform most frequently? Do you ever play any covers? Do you have a set play list?
The songs that we perform the most frequently are two songs from our first album. We play them at all shows, because fans always want it : Atlantis and Daughter Of The Night. Other than that, the set list always changes, so it's difficult to say.
About covers, no we don't, because we prefer focusing on our own creations.
What have you got planned for the next 6 months? Hopefully something fantastic.
For the next 6 months, as I said before, we have two very big fests that are really important for us. But we have something more in mind : in Eindhoven, we will play with a four-piece small vocal ensemble, to enhance our "symphonic" side live. For symphonic metal fans, this is clearly something you won't want to miss !
What is your favourite festival (played) / (been to)?
Our best friends are the Dames of Darkness in England, organized by Dave Homer from the band Apparition. We like Metal Female Voices Fest a lot, and really would like to play there again. And we're eager to discover Made Of Metal and FemME Metal Event !
If you could play alongside any band which one would you pick?
Well, probably Nightwish, Epica, or Therion.
What has been your biggest challenge as a band? Have you been able to overcome that challenge? If so,how?
I think that our biggest challenge as a band, was to continue growing, while been letting down by our vocalists. We never stopped working and our friendship just got stronger. Not only friendship between musicians, but also with the team that surrounded us : Les Creations Vultus, Florent our Photograph, our sound engineer Lionel. Well, friendship was the key. And now we are with Marie. She's been in the band for 2 years and a half, and we can't wait making another album together.
When did you start to sell merchandise, and what do you have for sale? Where can people buy your merchandise?
We started to sell merchandise from the beginning. We have some Tshirts for sale (though we are still waiting to have our stock refilled). And we also sell CDs. We have an online store
What's your ultimate direction for your band? Are you seeking fame and fortune?
Our ultimate direction is to stay true to ourselves. We're not seeking fame and fortune. We don't even try to earn money from music actually. And we all share that view in the band. We are here to enjoy making the best quality music we can, to share friendship and emotion with our fans. That's all !
What advice do you have for people who want to form their own bands?
Friendship is more important than ambition. Find good musicians, but be sure that you share the same views about the future, that you can trust each other. Or the band will split... probably at the worst possible moment.
How can fans-to-be gain access to your music? Do you have a website with sample songs or a demo CD?
You can find infos from our website, with some extracts. We also have several music videos on our Youtube channel.
Is there anyone you'd like to acknowledge for offering financial or emotional support?
We want to thank our team Les Creations Vultus, Florent, Lionel, Mathieu, Dave from Dames Of Darkness and Apparition, our friends Bel'O'Kan (check that band). We also want to thank our label Scarlet Records.
But most of all, we want to thank all our friends from all over the world for their love and support !
News Was Posted on: 26th June, 2015