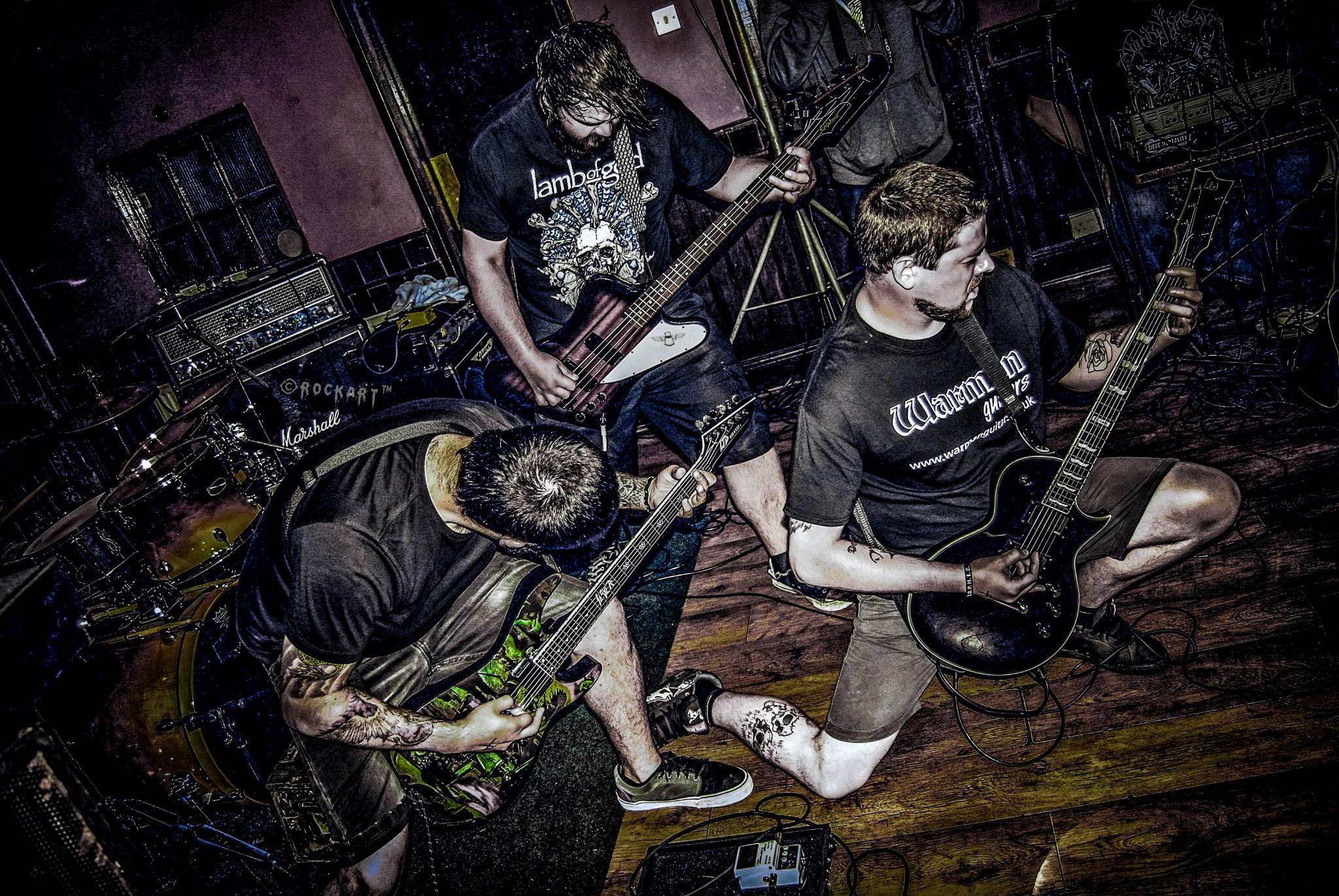 What's the name of your band? What's the origin of that name?
Deified. It means to make a god of.
Please list the name, age, and respective instrument of each band member.
Jamie Hughes – 30 (Old git)
Alistair Blackhall – 27 (2nd oldest git)
Matt Pike- 25
Stewart Brown - 25
Thomas Simm - 25
What genre of music do you consider your work to be? Who are your major influences?
We have been described as Groove metal by numerous people, as our songs are very riff orientated at different speeds and tempos. Our major influences range from Lamb of God and Sylosis, to Fleshgod Apocalypse and Dimmu Borgir.
When did you form your band? What inspired you to make music together?
Me and the guitarist, Alistair, got talking at a live music night in St Helens about starting a Devildriver style band, as we have a mutual love for riffs and guitars. We recruited Stew who everyone knew as a very good drummer who I knew from other local bands in the past. Stew recommended Jamie as one of the best vocalists he has ever heard, and we finally recruited Tom who we regularly drink with. He originally played guitar, but we persuaded him to play bass and he has done a damn good job. We all gelled right from the start. We all previously knew each other as friends, and me, Alistair and Stew went to the same high school.
Who writes your songs? What are the main themes or topics for most of your songs? Do you think these topics will change over time?
Jamie writes the lyrics to all of our songs, and we all eventually help with the arrangements of the songs. The topics range from a variety of world issues. Every song topics are different and Jamie will always find something relevant to write about. The lyrical theme of our latest song 'Paralyzed' is about sleep paralysis.
Could you briefly describe the music-making process?
We write most of the riffs and songs on Cubase and sends them over to each member of the band. Stew will tab the drums, and everyone then has an input on how the songs will be arranged. Every one has a go at writing when they have time. I (Matt) will produce the songs on Cubase or Pro Tools as soon as they are written.
Do you have a record label? Are you a member of any music organizations?
No, but we wouldn't mind being signed to an independent label as soon as our album is out.
What are your rehearsals generally like? Do you have a set time each week in which you practice or are rehearsals more spontaneous?
Usually spontaneous due to our recent gigging schedule, which has been going since June this year. We have played gigs nearly every weekend, so it is hard to practice on specific days.
What can you tell me about your instruments? (i.e., Are you subject to brand loyalty or will you play with whatever's available? What made you choose the instruments you have now?
I (Matt) am loyal to ESP and Schecter. I find it hard to play any other brand because I feel comfortable with every aspect of these guitars, including the exceptional build qualities and the sound they can produce. I have a Schecter C1 Hellraiser w/ EMG 81's, a Reign in Blood Special edition LTD w/EMG 81s that I won in a Metal Hammer competition, and an ESP Horizon NT-11 w/ JB Seymour Duncan SH-4.
Alistair is now leaning more towards the ESP side due to the neck profiles and sound quality they can reproduce. He is an admin for an instrument selling and swapping group on Facebook, and he has had over 16 different guitars in the time we have been together. He knows everything about guitars and amps, which is really useful to us all. He currently plays an Esp Ltd ec401 w/ EMG 81s and an ESP horizon HRF with SD Blackouts.
Alistair prefers ENGL Fireball amps because of the combination of the brutal gain channel and the warm clean channel, and also the bulletproof reliability of them. I prefer the more versatile Marshal JCM 900 series due to the tone they can produce. Tom plays an Ibanez Ergodyne and a Thunderbird bass through an Ashdown head and cab. Finally, Stew has the Joey Jordison kit w/ Pearl demon drive pedals and Sabian and Paiste cymbals.
How has your music evolved since you first began playing music together?
At first it was hard to write full songs together, but after playing with each other for a while, we all know how to get a song down efficiently without overcomplicating things. If a song needs time, we can work on it at home individually and share our ideas online and at practice.
How do you get psyched up for a gig?
Booze
Where is the biggest you have performed? Do you have any upcoming shows?
Bloodstock festival. We have recently played a 'tour' (if you can call it that). We have played nearly every weekend since June in area such as Cheltenham, Manchester, and the amazing Snooty Fox in Wakefield.
Which songs do you perform most frequently? Do you ever play any covers? Do you have a set play list?
We wouldn't mind doing some sort of fun cover soon. We used to play Limp Bizkit's Break Stuff for literally a laugh at our local shows, but we got sick of it after playing it a few times. We always mix our set up, and we play all of the songs that will be on our upcoming album entitled 'Ascension'.
What have you got planned for the next 6 months?
Release our album with merchandise, find bigger and better gigs, and find more contacts and more amazing talented young musicians such as All Consumed and Oakhaart.
What is your favourite festival (played) / (been to)?
After winning Liverpool's Metal to the Masses, we got to play Bloodstock in 2015. We went for our first time and it certainly wont be our last! It was the best festival experience we have all had. The atmosphere, size and community was like no other.
If you could play alongside any band which one would you pick?
Sylosis and Lamb of God. They are inspirational musicians who are both mind blowing live.
What is the funniest thing that has happened to you recently?
Plenty of funny things have happened in the band bus. We recently got picked up from a gig in an actual bus with bells and everything. Stew was also sick and it was stuck in his beard.
What has been your biggest challenge as a band? Have you been able to overcome that challenge? If so, how?
Making it through to the finals of metal to the masses. We knew we had tough competition, but we practiced every week none stop until we had our set down to a tea.
When did you start to sell merchandise, and what do you have for sale? Where can people buy your merchandise?
We will have Tshirts and other stuff available in January, and our album will be available digitally and physically in December from our website: www.deified.uk
What's your ultimate direction for your band? Are you seeking fame and fortune?
We just want to be able to write and perform the music style we have always admired. If something big happens, then we are fine with that! We will most definitely not sell out though. Creative freedom is one of the best things about metal music.
What advice do you have for people who want to form their own bands?
Make sure you can take criticism, work alongside each other without arguing, and do plenty of practice!
How can fans-to-be gain access to your music? Do you have a website with sample songs or a demo CD?
News Was Posted on: 9th December, 2015