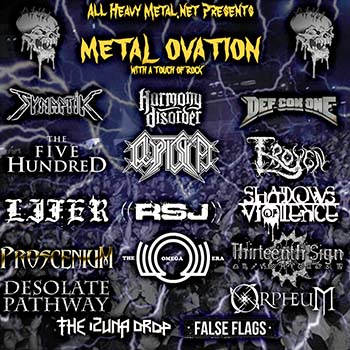 We are pround to announce the final bands that will be appearing on our free to download album.
In one more week on the 18th of December this album packed full of great artists will be released and all we ask is that if you like these bands tell them so and check out more of their work.
The bands we are announcing today are Harmony Disorder, Cryptic Shift, Troyen, Shadows of Violence, Desolate Pathway, Orpheum, The Izuna Drop and False Flags.
The track list is:
1.The Five Hundred - Come Closer
2.RSJ - Nice Day Out
3.Def Con One - No More Hate
4.Thirteenth Sign - Ghosts Beneath The Skin
5.The Izuna Drop - Death Of Fun
6.Synaptik - A Man Dies
7.Harmony Disorder - Heaven's Secrets
8.Lifer - Black Mountain Rising
9.Cryptic Shift - Deathcrusher
10.False Flags - Last Screen Goddess
11.Shadows of Violence - Through the Looking Glass
12.Procenium - The Hangman
13.The Omega Era - Inferno
14.Troyen - Syrian Lady
15.Orpheum - Darkness and Decay
16.Desolate Pathway - The Valley Of The Kings
News Was Posted on: 11th December, 2015