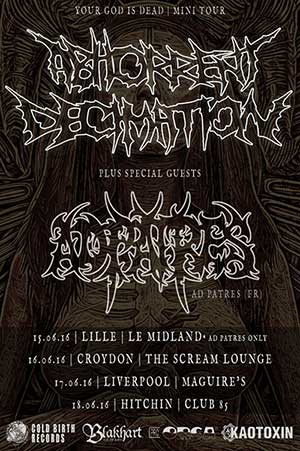 After releasing one of the most critically acclaimed UK Death Metal album of 2015, Abhorrent Decimation celebrate the success of Miasmic Mutation with the re-issue of that album in vinyl format and a mini-tour to celebrate its launch.

Making full use of the stunning artwork created by Pär Olofsson, this vinyl reissue is served up in a Gatefold layout and will be limited to 250 units. Each copy will also be totally unique.

"We opted for a shocking Hot Pink vinyl with Ice Blue Splatter and due to the way each unit is pressed, there can be no exact duplicates," says founding member and vocalist Ashley Scott. "We wanted to create something really special, the success of this album means a great deal to us and we wanted to invest in a really nice product."
To celebrate the reissue of Miasmic Mutation on vinyl, Abhorrent Decimation will be playing a small string of intimate shows across. They have chosen Ad Patres (Koatoxin Records) from France as their support.


YOUR GOD IS DEAD | UK MINI TOUR
16/06 Croydon, The Scream Lounge
17/06 Liverpool, Maguires
18/06 Hitchin, Club 85
News Was Posted on: 4th May, 2016